SEW ON SNAP FASTENERS
Snap fasteners in this category are applied by sewing and are suitable for dresses, coats, babywear, upper wear, home textile, and hobby products.
As Klinkshop, we provide 15 mm,  17 mm, and 21 mm sew-on snap fasteners with black and silver color options.
Sets of 6 pieces and 24 pieces are available.
Our products are made of durable, non-corrosive, and non-carcinogenic brass materials.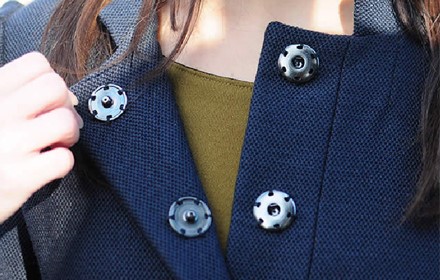 Dikme Çıt Çıt
Çıt çıt son dönemlerin trend malzemelerinden biri. Özellikle gençlerin ilgisini çeken ve kıyafetlere uygulanan kıyafet çıt çıtı kolay bir şekilde elde dikilebiliyor. Kıyafet çıt çıtı çeşitleri arasında farklı ebatlarda ve farklı modellerde çeşit çeşit dikilebilir çıt çıt modelleri Klinkshop'ta sizlerin beğenisine sunuluyor. Artık kullanmadığınız eski kıyafetlerinizi bile çıt çıtlarla trend hale getirebilirsiniz.

Önü kapanmayan ceket ve yeleklerinizi hatta hırkalarınızı da dikme çıt çıt ile hem işlevsel bir hale getirebilir hem de yeni estetik bir hava yaratabilirsiniz. Kopan çıt çıtlara ya da kendi yarattığınız bir objeye işlevsel şekilde birbirini tutması için yahut dekorasyon amaçlı olarak çıt çıt dikebilir ya da çıt çıt baskısı yapabilirsiniz. Bu eğlenceli işlemi şık tasarımlar ortaya çıkarmak harika bir hobi. Peki çıt çıt nasıl dikilir? Şimdi adım adım çıt çıt dikmenin inceliklerine bakalım.
Çıt Çıt Nasıl Dikilir?
Dikme çıt çıt her türlü kıyafet, ayakkabı, çanta ve kemer üzerine dekoratif olarak ya da iki katmanın birbirini tutması için dikilir. Hangi amaçla montelemek isterseniz isteyin dikme çıt çıt oldukça kolay bir şekilde yüzeye tutturabilir. Önce çıt çıtı hangi kumaşa ya da malzemeye uygulayacağınıza karar verin. Sıra seçtiğiniz kumaşa uygun dikilebilir çıt çıt modeli seçmeye geldi.

Kumaşın kalınlığına ve boyutuna uygun dikme çıt çıt zevkinize nasıl hitap ediyorsa ona göre bir seçim yapın. Buradaki önemli nokta örneğin, kalın bir kumaşa küçük ebatlara sahip bir plastik çıt çıt dikmeye çalışırsanız verimli bir sonuç alamayacaksınız. Dikilebilir kıyafet çıt çıtı kumaşın rengine uydurduktan sonra çıt çıtın merkezini kumaşa bastırarak kumaşta iz bırakmasını sağlayın. Ona karşılık gelen parçaya da aynı işlemi yaparak dikme yerini belirleyin. Dikiş yerini işaretlemek için tebeşir ya da sabun da kullanabilirsiniz. Dikilebilir çıt çıt iki parçadan oluşur ve bu iki parça dikmeden önce kumaşta prova edilir ki yönü yanlış olmasın. Daha sonra çıt çıtın deliklerinden kumaşın arka tarafına geçmeyecek şekilde sıkıca dikin. Artık yeni tarzı ile modaya uygun, farklı görünüme sahip kıyafet ya da aksesuarlarınızla havanızı değiştirebilirsiniz.