Colored eyelets / Packs with mixed colors
This category contains eyelets of 12 different and 4 metallic colors.
The dimensions given for the eyelets are the measurements of their inner diameters. So, when choosing the eyelets; please compare the thickness of the cord, rope, etc. that will go through them with the inner diameters of eyelets.
Each product from this section has a specific application tool depending on its size and the usage of the related tool is necessary for proper application.
Our products are made of durable, non-corrosive, and non-carcinogenic brass materials.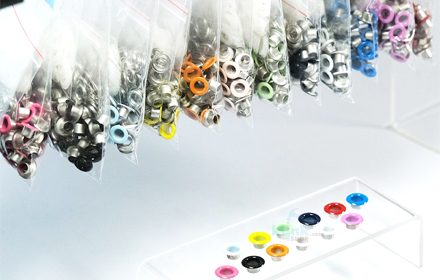 RENKLİ KUŞGÖZLERİ
Kuşgözlerinin kalitesi kadar görünümü ve kullanılacağı ürüne kattığı estetiği de önemlidir. Herkes kuşgözü uygulayacağı alanda metalik bir görüntüden hoşlanmaz. Bu yüzden renkli kuşgözü modelleri de üretilmiştir. Kuşgözleri sadece üretildikleri metalin renginde olmak zorunda değildir. Piyasada renkli kuşgözü modelleri de bulunur. Boya ile renklendirilen renkli kuşgözü çeşitleri arasında seçim yaparken boyalarının akmamasına ve kanserojen olmadığına dikkat edilmelidir.

Klinkshop'un pirinçten üretilen renkli kuşgözü seçenekleri uygulandığı ürüne farklı bir hava ve renk katacak. Çakma makinesi ya da çekiç ile istediğiniz yüzeye monteleyebileceğiniz renkli kuşgözleri, aradığınız her boyut ve farklı renk seçenekleri ile sitemizden kapınıza kadar geliyor. Renkli kuşgözü gümüş, altın, antik sarı ve siyah seçeneklerinin yanı sıra kullanacağınız zemin rengine göre yeşil, kırmızı, turuncu, pembe, sarı, beyaz gibi pek çok renk seçeneği Klinkshop'ta.