SNAP FASTENERS 
They are suitable to use on wallets, bags, coats and jackets, as well as home textile, quilts, duvet covers, camping tents, and boat sails. 
 S spring systems which are used in relatively softer working and lighter textile products and O spring systems which are suitable for rougher working heavy fabrics are present in our inventory.
As Klinkshop, we provide snap fasteners of 2 sizes and 4 color variations for each system and their practical application tools.
Produced from 0,30 mm thickness high quality brass material by progressive moulds.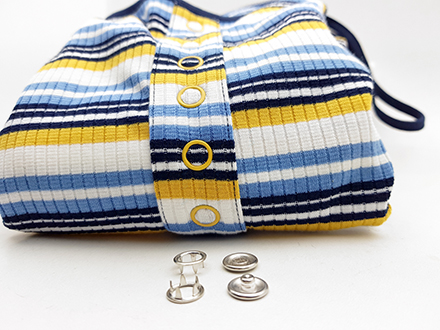 Çıtçıtlar
Hepimizin, işimiz ve gündelik meşguliyetlerimiz dışında kalan boş vakitleri kaliteli şekilde değerlendirmeye ihtiyacı vardır. Bunun için birbirinden farklı etkinlikler gerçekleştirmeye çalışmak yaşam kalitemizi de arttırır. Boş zamanlarımızı kaliteli hale getirmenin en güzel yolu ise ilgi duyduğumuz bir alanda bir hobi geliştirmektir. Kadın erkek, genç yaşlı herkesin kolaylıkla el becerileri ile gerçekleştirebileceği birçok hobi bulunmakta. Günümüzde, koleksiyon yapmak yerine ev ekonomisine de faydalı olacak daha yaratıcı ve el işlerine dayanan hobiler geliştirmek psikolojik dengemiz için de gerekli görülmektedir.

Üretime dayalı hobiler arasında uzmanlaşabileceğimiz ve ev işleri ile bütçemize de katkıda bulunabileceğimiz yaratıcı seçenekler mevcuttur. Örneğin diktiğiniz bir çanta ya da gömleğe çıtçıt uygulamak ya da düğmeli bir tekstil ürününü çıtçıtlarla süsleyerek dönüştürmek yaratıcı ve ekonomik bir hobidir; hatta bu konuda uzmanlaşabilirsiniz bile. Çıtçıt uygulamasını öğrenmek sizin için hem eğlenceli bir hobi hem de son derece işe yarar bir etkinlik olacaktır
Çıtçıt Alırken Nelere Dikkat Etmeliyiz?
Çıtçıt; birçok alanda kullanılan, son derece pratik ve estetik bir üründür. Özellikle tekstil alanında kullanımı çok yaygındır. Kullanım yeri açısından çıtçıt modelleri; giyim, çanta, ayakkabı, hobi gibi alanlarda farklılık gösterir. Örneğin, tekstil sektöründe kullanılan çıtçıt çeşitleri, metal, sedefli ya da dikme olabilir.

Metal çıtçıt alırken dikkat etmeniz gereken en önemli nokta kalitesidir. Pirinç malzemeden yapılmamış, sac malzemeden yapılmış çıtçıtlar kalite açısından düşüktür, dayanıksızdır, paslanır, çabuk düşer ve sağlığınızı tehdit eder. Uzun ömürlü olmadığı için, bütçenize de dost değildir. Dolayısıyla çıtçıt seçerken öncelikle pirinç malzemeden olmasına dikkat edilmelidir.
Çıtçıt Çeşitleri ve Kullanım Alanları
Metal çıtçıtları seçerken kumaşınızın tipini ve kalınlığını da göz önünde bulundurmalısınız. Buna göre; gömlek, elbise, çocuk giyim gibi tekstil malzemeleri için hafif ve narin çalışan metal çıtçıtlar ve kalın kaban, mont, çocuk pantolonu gibi ürünler için ise daha sert açılıp kapanan, daha sağlam tutan çıtçıtlar mevcuttur. Bunların en sık kullanılanı, Bebek Çıtçıtı ya da Klikıt denilen tırnaklı çıtçıtlardır. Giysilerde kullanılan çıtçıt modelleri renkli çıtçıtlar arasından seçilebileceği gibi, giyim malzemelerinize düğme görünümlü, çiçek desenli, şeffaf  veya sedefli çıtçıtları da basabilirsiniz.

Çıtçıtlardan sadece giyim sektöründe yararlanılmaz; ayakkabı, çanta, cüzdan, mont, kemer, teknecilik, kampçılık gibi alanlarda da genellikle metal çıt çıtlar kullanılır.  Bu çıtçıtlar ya elde çekiç ile yada makine kullanılarak basılır. Farklı ebatlarda renk renk, çeşit çeşit çıt çıtları Klinkshop.com'da bulabilirsiniz. Üstelik büyük çıtçıt basma makineleri ve çıtçıt kalıplarına ihtiyacınız yok. Klinkshop.com'dan sadece ihtiyacınız kadar çıtçıt alarak, içinden çıkan pratik aparatlar ile sadece bir çekiç kullanarak evde kendi çıtçıtınızı basmanız mümkün.  Çıt çıt düğmeler son derece şık ve pratiktir ve artık her alanda kullanılmaktadır.