DIE SETS (APPLICATION TOOLS) FOR MACHINES
Those tools are used for the application of metal accessories such as eyelets, snap fasteners, rivets, burrs, jeans buttons, etc. on the  products you designed by using press machines.
They are prepared separately for each sort of accessory and each size in our product range.
Those tools are easily installed and removed on the machines.
The tools are produced of hight quality steel, suitable for use in both home type small presses and workshop professional machines.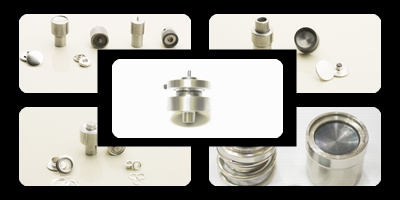 Pres ve Kalıp Nedir?
Çıtçtıt, kuşgözü, rivet, zımba, düğme gibi tekstil aksesuarlarının tekstil üzerine uygulanması için presler ve bu preslere takılan malzemenize uygun aparatlar yani kalıplar gereklidir.

Preslerin birçok modeli olmakla birlikte, genellikle ev, atölye ve hobi işleri için kullanılan pres, tulumba prestir. Bu basit el presine piyasada yaygın olarak; kuşgözü makinesi ve çıtçıt basma makinesi de denilir.
Pres ve Kalıp Alırken Nelere Dikkat Etmeliyiz?
Piyasada birçok çeşit tulumba pres bulunur. Bunların görüntüleri çoğunlukla aynı olmakla birlikte, fiyat ve özellikleri farklı olabilir. İyi bir pres hafif ama dayanıklı olmalıdır. Klinkshop.com sitesindeki preslerin gövdeleri, hafif bir malzeme olan alüminyumdan yapılmakla birlikte, çalışan aksanı, dayanıklı çelik malzemeden yapılmıştır. Bu iki malzemenin oranlı bir şekilde kullanılması ürünü 1.7 kg gibi hafif ama dayanıklı bir pres olarak bütünleştirmiştir.

Klinkshop.com sitesinden temin edeceğiniz tulumba pres hafifliği sayesinde size atölyenize, hobi kursunuza, evinize rahatlıkla çantanızda taşıma imkanı sunar.

Piyasada çoğunlukla aparat denilen çıtçıt, kuşgözü, rivet, zımba, düğme ve inci çakım kalıplarını da mutlaka malzemenizin ölçüsünde almalısınız.

Yani tek bir aparat ile her şeyi çakamazsınız. Temiz ve kusursuz bir çakım için kalıplarınız, o ürünün formuna ve ebatına göre özel olarak hazırlanmış olmalıdır. Klinkshop.com sitesinden temin edeceğiniz kalıplar çelik malzemeden yapılmış, kaliteli kalıplardır.