Eyelets / Grommets
Eyelets possess a wide range of usage areas in many sectors such as advertising, textile, leatherworking, and clothing. They are appropriate for accessories, tying apparatus, and many other purposes. As Klinkshop, we provide eyelets in 10 sizes and 4 plating colours, as well as their practical application tool.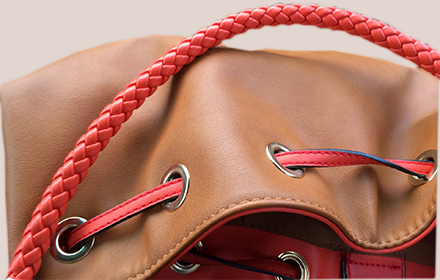 Hem hobi malzemeleri arasında hem de tamirat ve ev araç gereçleri içinde yerini bulan kuşgözleri ayakkabı, kemer, çanta, kot pantolon, eşofman, spor tekstil ürünleri, ev tekstili, iç ve dış bütün giyim ürünleri ile deri giyim ürünleri, hobi ürünleri, el yapımı malzemeler ve hatta bileklik gibi aksesuar ürünlerinde aksesuar yerine geçerken afiş, branda, tente, çadır bezi, tabela ve banyo perdesi gibi malzemelerin de vazgeçilmez parçasıdır. Uygulama alanları çok geniş olan bu kuşgözleri, tekstilde kullanılan en pratik ve şık metal aksesuardır. 
Kuşgözü Alırken Nelere Dikkat Etmeliyiz?
Metal kuşgözlerinden alırken dikkat etmeniz gereken en önemli nokta kalitesidir. Kalitesiz, pirinç malzemeden yapılmamış, sac malzemeden yapılmış kuşgözleri dayanıksızdır, paslanır ve sağlığınızı tehdit eder. Uzun ömürlü olmadığı için, bütçenize de dost değildir.

Kuşgözlerinin hangi hammaddeden yapıldığı kadar boyutları da önemlidir. İhtiyacınız olan boyutta kuşgözünü aşağı yukarı belirledikten sonra mutlaka satın alacağınız kuşgözü kiti üzerinde yazan ebatları dikkate alın. Bu ebatlar kuşgözlerinin iç çaplarının ölçüsünü gösterir. Doğru ürün için doğru kiti ve aparatları aldığınızdan emin olun.

Başka bir deyişle, eğer içinden kordon, ip vs. geçecekse, malzemenizin ölçüsünden biraz daha geniş ölçüde kuşgözü almalısınız. Süs amacı ile kullanacaksanız, almak istediğiniz ölçülerde yuvarlak şekilli cisimleri tekstilinizin üzerine koyarak kıyas yapmanız işinize yarayabilir.

Klinkshop.com' dan alacağınız kuşgözü kitinin içinden çıkan pratik çakım aparatları ile sadece bir çekiç kullanarak kolaylıkla çakma yapabilirsiniz.

Geniş kuşgözü ebatlarını bulabileceğiniz Klinkshop.com'dan, ayrıca renkli kuşgözleri de temin edebilirsiniz.
Makine Olmadan Kuşgözü Nasıl Takılır?
Kapsül veya halka olarak da bilinen kuşgözü takma işlemi için Klinkshop.com'dan edineceğiniz kuşgözü kiti içinde ihtiyacınız kadar adette kuşgözü ile pulları ve delme, alt, üst, plastik parça gibi birden fazla kuşgözü aparatı bulunmakta. Makinesiz çakma işlemini yapmak için önce mutfak tahtası gibi sert bir zemin oluşturacak bir malzemeyi kumaşın altına koyun.

Kuşgözünü takacağınız zemin ya da kumaşta işaretleme yaparak kuşgözü kiti içinde yer alan ve kumaş delmek için kullanılan kuşgözü aparatı üzerine çekiç ile vurarak bir delik açın. Alt plastik parça üzerine, alt aparatı oturtun. Kuşgözünü bu aparatın yuvasına yerleştirin ve kumaşın deliğinden geçirin. Üzerine, kuşgözünün pulu dediğimiz alt parçasını geçirin ve sonra siyah plastikten üst tutucuya taktığınız kuşgözü aparatını bu parçaların tam üzerine denk getirerek aparatları kaydırmadan çekici doksan derece yani tam dik vaziyette tutun ve birkaç kez vurun. Böylece kuşgözünü makine olmadan sadece bir çekiçle tertemiz bir sonuç alarak basabilirsiniz. Uygulama videoları, tüm ürünlerin altında ve YouTube kanalımızda mevcuttur. Ayrıca sitemizin ''Blog'' bölümünde de konu hakkında açıklamalar ile ipuçları bulabilirsiniz.