Jeans Buttons Kits with Easy to-use Hand Tools
They are used on Jeans Trousers, Skirts, Jackets and any Denim fabric garments.
Their application is very easy even at home. You will need just a simple hammer beside the Easy to use Tools included in the retail packs.
Simply very useful to complete the fallen buttons of your denimwear.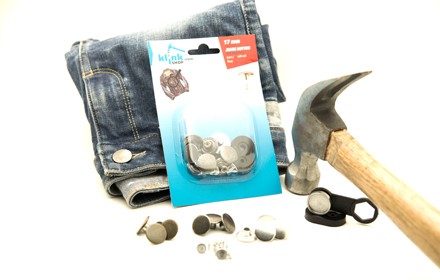 Kot Düğmeleri ve Çakma Düğme
Çakma düğme dış giyim ürünlerinden mont ve kalın ceketler ile kemer ve çanta gibi aksesuarlarda da kullanılır. Ama çakma düğme kotlar için vazgeçilmezdir. Kot sert ve üzerinde uygulama yapılması çok zor bir kumaş türü olduğu için kotlarda çakma düğme kullanmak zaruri bir ihtiyaçtır. Kopan bir kot düğmesi yerine başka herhangi bir düğme monte edilemez. Kot düğmesi makineler yoluyla basılabilir. Ama artık sadece bir çekiç yardımı ile kota basılabilecek kot düğmesi setleri üretiliyor.

Uygulaması oldukça kolay olan kot düğmesi basma işlemi için önce kumaşı sert bir zemine yayın. Düğmeyi çakacağınız yeri kumaş üzerinde belirleyin. Çakma düğme seti içinden çıkan çivi ya da vidayı yine set içeriğindeki zemine yerleştirin. Vidanın ucunu kumaşta işaretlediğiniz, yani deldiğiniz yere geçirin. Düğmeyi vidanın üzerine oturtun. Çakma aparatını düğmenin üzerine kapatıp düğmeyi sabitleyin. Çekiçle birkaç kez sağlam vuruş yaptığınızda düğmenin tam olarak kumaşa oturduğunu göreceksiniz. Düğme çakma işlemi bu kadar kolay.

Klinkshop kot düğmeleri ve çakma düğmeleri sizlere sunuyor.  Uygun fiyatlarıyla en kaliteli ve şık, kadın erkek, genç yaşlı herkesin beğenerek ve rahatlıkla kullanabileceği kot düğmesi paketleri içerisinde 8 adet metal çakma düğme, bu düğmelerin alt çivileri ve 2 adet tulum tokası bulunmakta. Düğmeler 20 milimetre ebatlarında altın ve gümüş renklerindedir. Tüm kot kumaşları için ideal kullanım sunar.