Eyelet attachment sets with machine and tools
This section contains handy and economic packages of a hand press and eyelet application tools tailored for general needs.
The hand presses are of quality aluminum material and are exceptionally lightweight. The attachment tools are produced with quality steel material.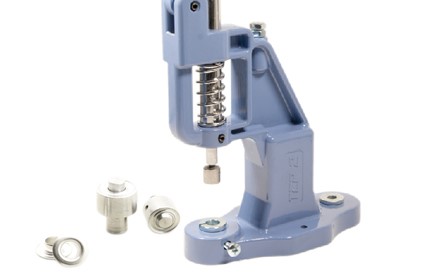 Makineli Kuşgözü Setleri
Hem işlevsel hem de estetik amaçlı kullanılabilen kuşgözü yani kapsülleri Klinkshop'tan set halinde edinebilirsiniz. Klinkshop'ta kuşgözü setleri makineli ve makinesiz olarak iki seçeneklidir. Makineli kuşgözü setleri içinde tulumba el presi bulunur. Montaj kalıpları da kuşgözü setler dahilindedir.

Çekiçle çakma işlemine olanak sağlayan kuşgözü setleri gibi makineli setlerde de öncelikli olan kalıplar yardımıyla kumaş ya da kuşgözünü çakmak istediğiniz malzemede delik açmak gerekir. Delik açma işlemi tulumba makinesi ile yapılır. Tulumba el presinde delme ve çakma kalıpları birbirinden farklıdır ve işlemler yapılırken kalıplar değiştirilmelidir. Buradaki bir diğer önemli husus da kuşgözü makinesinin boyutlarına dikkat etmektir. Bir makine her boyutta kuşgözüne uygun olmaz. Bu nedenle kuşgözü setleri oluşturulmuştur.

Kuşgözlerini, kuşgözü aparatlarını ve tulumba makinelerini ayrı ayrı almak hem boyut konusunda sizi yanıltır hem de ekonomik değildir. Bu yüzden makineli kuş gözü setlerini satın almanızı öneririz. Klinkshop'ta sizlere sunulan tulumba el presleri kaliteli alüminyumdan üretilir ve son derece hafif olduğu için pratik kullanım sağlar.

Kuşgözlerini çakmak amacıyla üretilen tulumba makineleri muntazam ve profesyonel sonuç almak için ideal bir kullanım sunar. Kuşgözü setleri içinde bulunan bu makinelerle pratik bir şekilde ve kolay uygulayabileceğiniz kuşgözü çakma işlemi son derece estetik bir görünüm sunduğu için de tercih sebebidir.